Places of interest selected
Barcelona Bus Turístic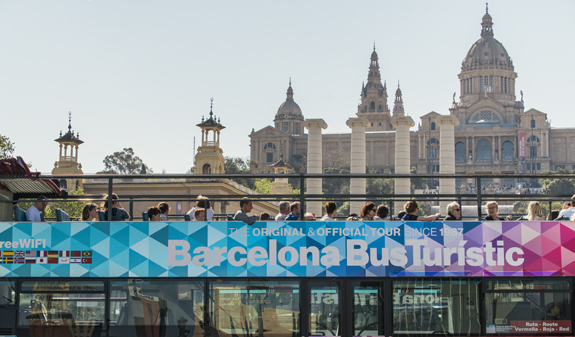 If you're visiting Barcelona for the first time, or don't have much time for sightseeing, why not hop on board the Barcelona Bus Turístic? It's the best and most convenient way to see all the major landmarks and places of interest.
Accessibility details
The Barcelona Bus Turístic is adapted for wheelchair users and has an induction loop for the hearing impaired.

The Barcelona Bus Turístic audioguide describes the different places of interest and landmarks on the route in several languages.


Hearing-impaired passengers can call at the tourist information office in Plaça Catalunya and hire an induction loop to help them hear the audioguide more clearly. A 200 € cash or credit-card deposit is required.
Instructions for using the induction loop:
1. Place the induction loop receiver around your neck.
2. Connect the induction loop to the audioguide system.
3. Switch your hearing aid to position T.


The entire Barcelona Bus Turístic fleet is adapted for people with reduced mobility. However, as specified in the informative leaflets, they can only access the lower deck.
Last update: 07/12/2016
Back to index
Booking
Call Center
Service providing personalized tourist information about Barcelona in several languages, by phone, fax and e-mail. We'll be glad to help you to book and buy tickets for tours, shows or other.
Phone: (34) 932 853 832, Monday to Friday from 8 am to 8 pm
Fax: (34) 932 853 831
E-mail:
infoaccess@barcelonaturisme.com
Purchase on-line.
BCN Shop
: Virtual shop run by Turisme de Barcelona where you can purchase tourist products and services.
Back to index
Send your comment about this information (will not be published)
Back to index